Whether you are a filmmaker, an artist, an entrepreneur, or even if you are working a 9-5, you only have so many waking hours. How will you use them? Today we are talking about priorities and how important it is to know and understand what your most important next actions are to get you closer to your goals.
Fable Forest Update:
A corporate video for Arma Gate goes out the door and another Corp Video project commences

Adrian is continuing to work on VFX this week. 2 shots came together quite nicely! 1 is going to be in the trailer FOR SURE!

The lads pitched the Postmen concept to working television/film stuntman, now producer Emerson Wong and came away with some good advice on moving forward.

Discussed the loss of Juice International as their aggregator and the push to put Bickerman's Grove and I Was A Greenhouse on Amazon
MAIN SEGMENT – Hot4Teacher
Prioritization!
It is important to have a goal – you need to have a clearly defined direction and place to move towards otherwise there is no way to know what is a priority for you. Tied into the idea of priority is an understanding or a developing of a matrix to decide what is important.
The 4 Quadrant Urgency and Importance Method from the bestseller 7 Habits of Highly Effective People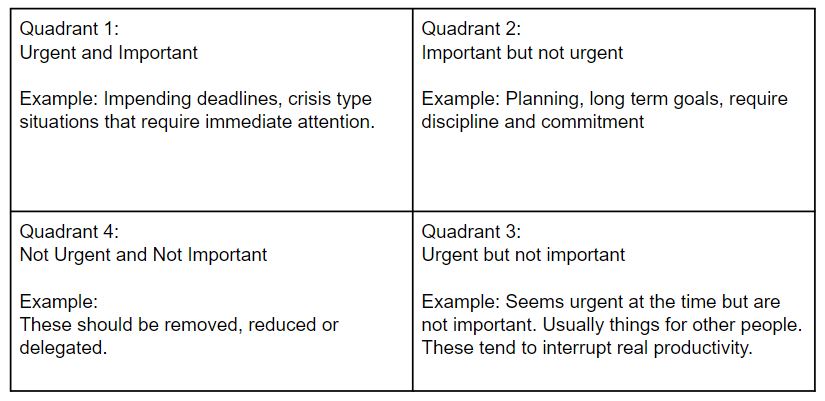 Placing items in these boxes can help you to determine the most important priorities for getting you where you need to be. 
So let's use us as an example: what is our goal?
To become a production team that makes films and TV shows for the biggest studios in the world like Netflix, Amazon, Disney, Apple + 
Watch the episode to see what the guys place in the quadrants and the discussion around them.
Conclusion:
You have to know the most important line items that you need to be doing in order to take care of business. You need to understand that those need to take precedence, but you allowing yourself the time to try new things and discover and have fun is also important, so keep those things in mind. BUT the moment that the main priorities start to not get taken care of, then the stuff that isn't essential needs to go. 
Whatcha Watchin?
Adrian is reading The History of the Television Show 'The Office' & watching 'Parks & Recreation' to get him in the mood to go into production for our comedy pilot!
Jay – Mr. 3000
A perfect cookie cutter sports movie! Jay is saving this one to watch again when the team goes to write their Sports Flick! It's important to understand the base sports film recipe!